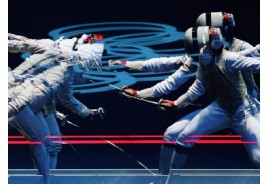 2018 SENIOR FENCING WORLD CHAMPIONSHIPS BEGIN IN WUXI, CHINA
posted by: from http://fie.org /02/11/2018
WUXI, China, July 21, 2018—The 2018 Senior Fencing World Championships are underway in Wuxi, China, with 12 individual and team events scheduled between July 19 and 27. A halfway point in the Olympic quadrennium, many athletes competing here are hoping to achieve results to help them ultimately qualify for the Tokyo 2020 Summer Olympic Games. Twelve gold-medal events will be held throughout the World Championships, the same as scheduled for the Olympics.
Of the 153 national federations in the International Fencing Federation (FIE), 108 are represented here in Wuxi with 771 athletes participating. The Championships begin with three days of individual preliminary competition in all three weapons (foil, epee, sabre), and two events occur each day including pools and direct eliminations (one each for men and women). Then, beginning on July 22, three more days of individual competition take place from the top 64 fencers in each event to the finals, with two new world champions named each day. The last three days of the Championships, beginning on July 25, include six team events (all three weapons, men and women) with two team world champions named daily.
The opening ceremonies are scheduled for the first day of finals, Sunday, July 22, which begin with individual women's epee and men's sabre. The full competition schedule and results may be found on the FIE web site, www.FIE.org and on the official 2018 Fencing World Championships web site, www.wuxifencing2018.cn.
NOTE: Beginning on July 22, the 2018 Fencing World Championships will be available to view online via the following link: http://sports.cctv.com/live/waicai6/index.shtml