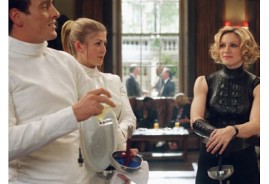 ITALY'S NAVARRIA, KOREA'S KIM WIN GOLD IN EPEE AND SABRE AT WUXI FENCING WORLD CHAMPIONSHIPS
posted by: from http://fie.org /02/11/2018
WUXI, China, July 22, 2018—On the first day of finals competition at the 2018 Wuxi Fencing World Championships, Italy's Mara Navarria took gold in women's individual epee and Korea's Junghwan Kim won men's individual sabre. These were the first two of 12 individual and team competitions taking place at the expansive Wuxi Sports Center Gym, featuring a spectacular arena with an illuminated digital video floor and wall and extensive lighting display. Three days of individual preliminary competition have already taken place, and the official opening ceremony was held this evening before the semi-finals. Numerous Wuxi city and Jiangsu provincial officials were on-hand to open the finals, along with VIPs and former fencing champions from the International Fencing Federation. This is the first complete fencing world championship ever held in China.

Navarria won the women's individual epee final match against Romania's Olympic silver medallist Ana Maria Popescu, 13-9. Popescu narrowly defeated USA's Courtney Hurley, 14-13, in the semi-final, while Navarria overtook Switzerland's Laura Staehli, 15-8. Of note, Hungarian Olympic gold medallist Emese Szasz-Kovacs went out in the quarter-finals against Staehli, 14-13. More than 120 women's epee fencers competed in the event.
In the men's individual sabre final, Olympic bronze medallist Junghwan Kim beat USA's Eli Dershwitz, 15-11, to win the gold medal. In the semi-finals, Dershwitz overcame Korea's Junho Kim in a very tight match, 15-14, while Junghwan Kim beat Russia's Kamil Ibragimov, 15-13. The Korean also defeated his teammate and top-ranked Bongil Gu in the quarter-finals, 15-10, while Dershwitz beat two-time Hungarian gold medallist Aron Szilagyi, 15-11, in the same round. As in the women's event, more than 120 men's sabre fencers competed in the competition.
The top eight finalists in women's individual epee at the 2018 Wuxi Fencing World Championships include Mara Navarria (ITA, gold), Ana Maria Popescu (ROU, silver), Courtney Hurley (USA, bronze), Laura Staehli (SUI, bronze), Olena Kryvytska (UKR), Emese Szasz-Kovacs (HUN), Katrina Lehis (EST) and Coraline Vitalis (FRA).
In men's individual sabre, the top eight included Junghwan Kim (KOR, gold), Eli Dershwitz (USA, silver), Kamil Ibragimov (RUS, bronze), Junho Kim (KOR, bronze), Bongil Gu (KOR), Andras Szatmari (HUN), Aron Szilagyi (HUN) and Fares Ferjani (TUN).
Complete results from the 2018 Fencing World Championships may be found here for women's individual epee and here for men's individual sabre. Complete event information may be found at the official event web site.