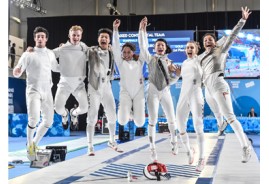 Buenos Aires Youth Olympic Games Fencing a Success
posted by: from http://fie.org /03/04/2017
The third Youth Olympic Games in Buenos Aires have come to a close, including four days of enthusiastic teen fencers competing and taking home Olympic medals as well as spectacular experiences, new friends, and memories for a lifetime. In all, 241 events in 32 sports took place at the Games, with 206 countries sending at least one athlete each to compete. Fencing included seven events, including six individual competitions including all three weapons (epee, foil, sabre) for both boys and girls. A mixed continental team fencing event was held, as well, unique to the Youth Olympic Games.
Fencers participating in the Games took part in the Opening Ceremony on October 6, in the first time any Olympic Opening Ceremony has been held in the streets of a city and free to the general public, separate from a traditional stadium. The centre-point of the Opening Ceremony was the historic Buenos Aires Obelisk in the center of the city's 9th of July Avenue. Fencing Olympic gold medallist and International Olympic Committee President Thomas Bach was joined by dignitaries, VIPs and celebrities along with dancers and acrobats from the Argentinian dance theatre company Fuerza Bruta to welcome the world to the first Youth Olympic Games in the southern hemisphere.
Fencing began on October 7 in the YOG Africa Pavilion, and Mr. Bach visited the event with Yusra Mardini, refugee swimming team member from Rio 2016 and UNHCR Goodwill Ambassador. Fencing Athlete Role Models Daryl Homer (USA) and Maria Belen Perez Maurice (ARG) were also on-hand with FIE Secretary-General Emmanuel Katsiadakis to introduce the event. Homer and Maurice took part each day in a fencing initiation program that let visitors to the Games try fencing; Mr. Bach also participated in the fencing program to the delight of fans and athletes.
The gold medallists for the fencing events at the Youth Olympic Games were as follow:
October 7
Women's FoilYuka Ueno (JPN)
Men's SabreKrisztian Rabb (HUN)
October 8
Women's EpeeKateryna Chorniy (UKR)
Men's EpeeDavide di Veroli (ITA)
October 9
Women's SabreLiza Pusztai (HUN)
Men's FoilArmand Spichiger (FRA)
October 10
On October 11, after the fencing events had completed, fencers took part in a special program organised by the FIE, a YOG "Focus Day" where they learned about how to balance sport and education, and how to craft their futures involving fencing for a lifetime. ARMs Homer and Maurice were on-hand to work directly with the athletes to help develop sustainable plans for their careers and lives in sport.
Some of the fencers remained in Buenos Aires through the duration of the Games, enjoying the festivities of the Closing Ceremony on October 18. Mr. Bach declaring the Games closed, and the Olympic Flag was ceremoniously passed from Buenos Aires to Dakar, Senegal, for the next Youth Olympic Games in 2022.